Our resurgence programs offer the opportunity for hundreds of Aboriginal students and community members to learn about Aboriginal cultural practices such as weaving, possum skin cloak sewing and artefact making and immerse themselves in Aboriginal culture at our cultural camps.
Our Aboriginal cultural knowledge holders work alongside schools and community groups to make a possum skin cloak or weave a large scale woven sculpture. These cultural items are owned by the school or community group and are featured in our annual Cultural Resurgence exhibition.
WEAVING
Inspired by the traditional practice of coiling with rushes, lomandra and other grasses, these contemporary artworks provide the opportunity for young people and community to explore traditional practices while making contemporary sculpture with contemporary materials.
POSSUM SKIN CLOAKS
Possum skin cloaks are utilitarian objects. Starting as a baby blanket, three pelts are sewn together with kangaroo sinew to create a warm and soft blanket. Over the years, the blanket is added to. With each new pelt, images are burnt and scratched into the underside of the leather creating a personal story.
Find out more
2023 Cultural Resurgence
Our 2023 Cultural Resurgence was held at Newcastle Museum from May to July, brought to the community by Newcastle Permanent. The 2023 artworks were created by more than 600 school kids and community members from across the region, including five primary and secondary schools, two early childhood services, two community groups, one community provider and one university.
They were part of cultural enrichment programs from Speaking in Colour which culminate in the exhibition. The exhibition is a timely reminder for everyone who attends that Australia has one of the oldest cultures in the world and these traditional practices showcase techniques handed down for many generations.
Resurgence programs are so important for Aboriginal people to connect with culture but also for all Australians to learn more about our ancient culture. To be able to share knowledge, create culturally appropriate artworks and have them on display in such a popular venue is a real privilege for all involved.
The exhibition for the first time will encompassed National Sorry Day, National Reconciliation Week and NAIDOC Week which was perfect alignment given it was such a significant year in our reconciliation journey.
This exhibition was free to attend, with free guided tour also available, all thanks to Newcastle Permanent.
2023 Culture Resurgence includes the following works
Allambie Care – 'Malang' Water Dragon
Hunter School of Performing Arts – 'Taking Flight'
Macquarie College Preschool – 'Rosie' the Kookaburra
Singleton Public School – 'Bluey' the Blue Tongue Lizard
United Preschool Caves Beach – 'Caves Eagle'
The Wollotuka Institute – 'Birabahn's Flight – A Journey of Cultural Connection and Belonging'
Wiripaang Public School – 'Birds and the Bees'
Hunter Women's Weaving Group – 'Aunty Eb and Aunty Flo'
Glendale East Public School – 'Echidna'
Landcare and Sustainable Living Centre – 'umali barai-ku – to do for the earth'
Abermain Public School – 'Abermain Cloak' – Teenaged size cloak
Speaking in Colour Aboriginal Women's Retreat – Adult size cloak
Cultural Resurgences
2023 Cultural Resurgence
11 May - 31 July 2023
Newcastle Museum
View the 2023 Cultural Resurgence Catalogue

2022 Cultural Resurgence
19 March - 15 May 2022
Maitland Regional Art Gallery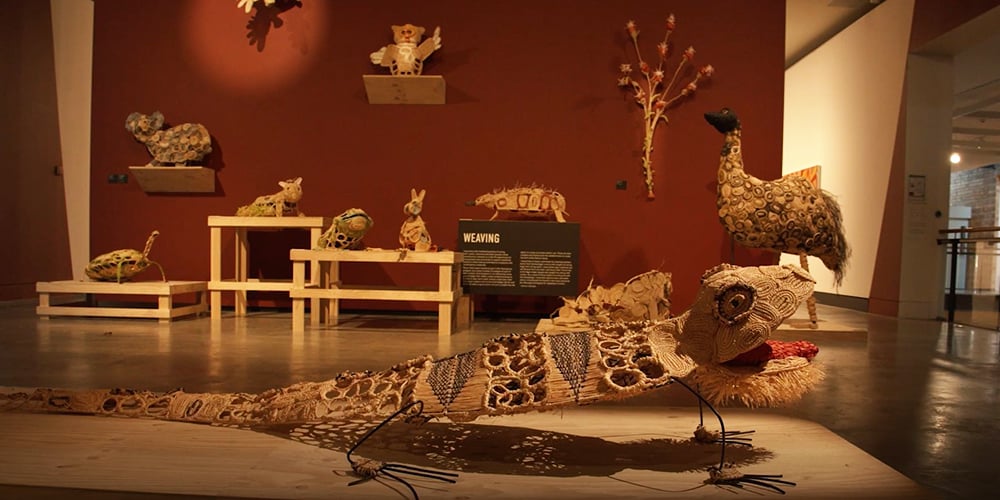 View the Maitland Cultural Resurgence catalogue.
View the Maitland Cultural Resurgence social impact summary.